ABOUT US
Our Story


The company name is andensen,inc.

an =
Beginning and end of Japanese hiragana.
densen =
Contagious and connected.
Join companies, shops and people all over the world!
That's the company name I thought about.

Make sure that our president 's overseas life, overseas customers, overseas friends, more people are connected, and things go and go.
With that thought, I completed this logistics platform.

I would like to deliver various thoughts and valuable things from Japan to the world and from the world to Japan on this international logistics platform.

Naturally also connect the world with a door to door.

It's time to start up.
First of all, we will deliver from Japan to your country, your house.

International courier service.
Service name is · · ·,
It is a doorbell.






Our project
First of all, we will deliver goods overseas from Japan to your overseas home.
International courier service. "Door bell".
Of course small products,
Large-sized items such as furniture made in Japan, beds, mattresses, pianos and refrigerators, washing machines, microwave ovens etc. can also be delivered.
We will deliver it reasonably and timely with international courier service.
Large-sized items that could not be delivered until now are also possible.
Packing and customs clearance are also packing fee.
It's easy to use.
1: Member registration of our service.
2: Shopping in Japan. Internet shopping is also possible.
3: We only send it to our company warehouse.
After that I will deliver to your overseas home.
Country / region: China, Korea, Taiwan, Hong Kong, Thailand, Vietnam, Malaysia, Singapore, Philippines, Indonesia, USA, Australia etc.
Management philosophy

A good person, a good edge, a good heart.
Connect with people across the border.
--- outline ---

Corporate name : andensen,inc.
Headquarters : RoyalHigashitenmaBuilding 3F,
1-3-3,Higashitenma, Kita-ku,Osaka,Japan
Telephone number : +81-6-6123-7890
Corporate Number : 9120001216021
Tax ID Code : P0018E410000
User guide │ Routing route confirmation │ Price list │ Country / region │ FAQ
"doorbell"
Estimate & Order
Service name is "doorbell".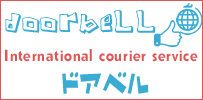 --- Example of use ---
Door bell │ Japan tourism │ Online shopping in Japan │ Used cars